Introduction
Young people globally are almost three times more likely to be unemployed than adults. They are also particularly vulnerable to insecure and poorly paid jobs. Donors are therefore increasingly interested in interventions which aim to help them access both more and better jobs. Young people are typically defined as between the ages of 15 and 24, although growing evidence that the transition to work is now more protracted and extends into higher ages has led some to argue that 25-29 year olds should also be considered young people.
The ILO estimates that more than 73 million young people (between 15 and 24) are unemployed, making up about 37% of all unemployed. About 13% of youth are unemployed. The 2015 Global Employment Trends for Youth report estimates that 43% of the global youth labour force are unemployed or in working poverty. More information is posted on their website "What Works in Youth Employment".
Economists such as Justin Yifu Lin, Ragui Assaad and Deborah Levison have argued that the 'youth bulge' can be a positive influence on developing countries: if the increase in the number of working age individuals can be fully employed in productive activities, other things being equal, the level of average income per capita should increase as a result. However, if a large cohort of young people cannot find employment, the result will likely be a large number of frustrated youth. For more information on the potential consequences for social and political (in)stability, please refer to the 'Employment and Vulnerable Groups' section on the PSD in CAEs knowledge page, and selected recommended reading below.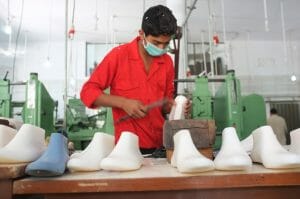 Interventions to address these concerns predominantly take the form of either job skills training, which aims to help young people compete better in the labour market, or entrepreneurship support, which aims to help young people create and grow their own businesses. More recently, the potential of information communication technologies to promote youth employment has been explored.
It has also been argued that targeting the demand for labour is important to address the challenges of the 'youth bulge'. Justin Yifu Lin, for example, points to the structural transformation which took place in China whilst the country's 'youth bulge' was at its peak as the reason that high youth unemployment was avoided. Further information on structural transformation and policies which may support it can be found on the Industrial Policy page.
This page summarises some of the key evidence around Youth Entrepreneurship and Employment, for a DCED Synthesis Note on this topic click here.
Key overview documents
Training for youth in skills
Job Skills Training and Wage Subsidy Programmes – Comparisons and Synergies
Support to youth to be entrepreneurs
ICTs for youth employment
Youth employment in conflict-affected areas
For more information, visit the DCED knowledge page on PSD in Conflict-Affected Environments.
Youth employment in agricultural and rural areas
Measuring the results of youth employment interventions
Other useful resources
Videos on youth employment
José Manuel Salazar-Xirinachs, Executive Director of the International Labour Organisation's Employment Sector is interviewed by CNBC on youth unemployment, job vulnerability and working poverty amongst young people in developing countries and the problems of skills mismatches. The role of the private sector in providing vocational training and apprenticeships is also discussed.