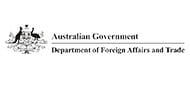 The Department of Foreign Affairs and Trade (DFAT) is the Australian government agency responsible for the design and delivery of the Australian aid program.
Private Sector Development (PSD) policy or strategy
In June 2014, the Minister for Foreign Affairs made a speech entitled The New Aid Paradigm, in which she outlined a greater focus on working with the private sector and on PSD, going forward. You can read the speech here.
Australia's general aid policy is given in more detail in a document entitled "Australian aid: promoting prosperity, increasing stability, reducing poverty" (June 2014). Information about the performance framework is available here; overall, the emphasis is on key targets, innovation, and working more with the private sector.
For more information, please refer to DFAT's webpages on private sector partnerships and private sector development.
A 2014 report prepared for the Food Systems Innovation Initiative (which is co-funded by DFAT) assesses the development assistance delivered by Australia in the agriculture and food sectors. It focuses on Aid for Trade, PPPs, Inclusive Business Models, and the relationships between the delivery of Australia's ODA programs and the private sector businesses that may be directly or indirectly involved.