This page offers a collection of stories which illustrate the great potential of the private sector to improve the living conditions of the poor by creating jobs and income at scale. Most stories are based on self-reported results by private sector development programmes. The programmes are classified by main areas of intervention; some comprise a combination of interventions.
For robust research and evidence on results, please refer to the DCED Evidence Framework; private sector development programmes which underwent an external audit of their results measurement system are listed here.
Further insights into how to achieve results at scale can be found in Getting to Scale: Lessons in reaching scale in PSD programmes, by Gareth Davies, ASI, 2016.
Private sector engagement
Private sector engagement approaches typically focus on working with multinational or large donor country companies to achieve business as well as development results. They include a variety of strategies, such as financial instruments (grants, loans, equity, guarantees etc), non-financial instruments (e.g. advice, policy dialogue), or joint development and funding of public-private initiatves.

Featured story: Multinational buyers co-funding sustainable cocoa production in Indonesia
The Indonesian cocoa sector has experienced a steep decline over the past decade; its share of the global cocoa production has dropped to around 8%. Nonetheless, about 1 million farmers depend on the cocoa sector as their main source of income.
What has been done? The Sustainable Cocoa Production Programme is a partnership implemented by Swisscontact, with support from SECO, IDH, IFAD, MCA and several large international companies (Barry Callebaut, Big Tree Farm, Cargill, Ecom, Guittard, JB Cocoa, Krakakoa, Mars, Mondelēz International and Nestlé). Started in 2012, it aims to improve the competitiveness of the Indonesian cocoa value chain through a variety of interventions.
What has been achieved?  By end-2016, 29,891 smallholder cocoa farmer households have increased their annual income from cocoa farming by 75% compared to the baseline data. An estimated net income attributable increase in 2015 of USD 9,367,301 is also reported, based on yield improvements of 60% compared to baseline values and constant market prices (average of USD 157/farmer/year net income increase from cocoa). Source and more information: Swisscontact, 2016.
More stories like this:
In several countries, aid agencies have shared the initial costs of launching or extending mobile banking services to poor populations. A well known case is M-Pesa in Kenya, whose launch was jointly funded by Vodafone Safaricom and DFID's Enterprise Challenge Fund in 2007. By 2015, M-Pesa has had 20 million customers; data from 2011 suggest that 78% of customers are poor, and that M-Pesa has directly led to the creation of 30,000 jobs. Read more about M-Pesa here. 
Engagement with large companies can not only serve to test new business models, but also to roll out successful pilots. As such, IFC used $37 million in financing (loan, guarantee and equity) to Coca-Cola SABCO in East Africa to help expand its operations, including an inclusive delivery scheme which relies on informal entrepreneurs as local distributors. Between 2002 and 2008, the scheme created more than 12,000 jobs. Read more or access full impact story (IFC, 2011)
Market Systems and Value Chain Development
Market systems approaches aim to reduce poverty by enhancing the ways that the poor interact with markets, through interventions at various levels of the market system. Value Chain Development approaches can look similar in practice, or take a narrower and/ or more direct approach, e.g. by focusing on capacity-building and building linkages between value chain actors.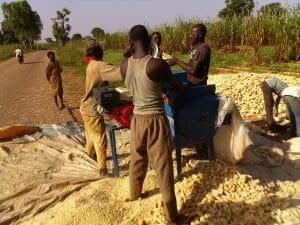 Featured story 1: Transforming Uganda's maize system
In Uganda,  imported cereals by far exceed locally sourced ones, due to the fragmentation and low productivity of poor farmers, who mainly sell to informal traders. When the brewing company Nile Breweries sought to buy local maize via Agro Ways, a grain trading company, the maize did not even meet the lowest quality grade.
What has been done?  To help local farmers capitalise on market opportunities with businesses like Nile Breweries, USAID started a pilot project in 2010 to build direct commercial relationships between Agro Ways and farmer communities. It funded about 30% of Agro Ways' investment in village aggregation centres, grain bulking facilities and other equipment to improve post-harvest handling.  After successful completion of the pilot, USAID's Uganda Value Added Maize Alliance (UVAMA) provided $2.7 milllion in matched funding to expand AgoWays facilities; UVAMA also trained lead farmers in good agronomic and post-harvest practices, and provided equipment such as mechanised maize shellers. Other activities led by AgroWays included demonstration plots for improved seed varieties and the development of embedded information and training services to farmers.
What has been achieved?  In 2012, AgroWays became an approved supplier of Nile Breweries; by 2015/16, it had increased sales from 480 MT in 2012 to 12000 MT and sourced directly from 7,000 farmers. And there is room for further growth: UVAMA has reached about 27,000 farmers with training in good agricultural practices, 70% now now use improved maize seeds, and 75% use mechanised maize shellers (up from 12%). Median yields increased by 65% between 2012 and 2015 and household incomes increased by 118%. Women represented 52% of training beneficiaries, and youth 37%. Source and more information: Palladium, 2017
Featured story 2: Expanding the poor's access to business information through FM Radio in Uganda
The rural poor in Uganda face numerous policy, legal, regulatory and administrative constraints that prevent them from improving their incomes from doing business.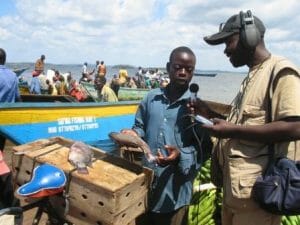 What has been done?  Between 1999 and 2005, FIT Uganda, a Ugandan Development Company, together with the FIT SEMA Project of the ILO, has worked with Ugandan radio stations to establish small enterprise-focused radio programmes. By providing business information and creating support for policy reforms, these programmes aimed to tackle issues that hamper business operation.
What has been achieved?  By 2004, about 12 radio stations had started to broadcast at least one small business-focused programme due to FIT's activities. 7 million adults across the country listen regularly to the programmes, 96% of whom state that the information has benefited their businesses. Research suggests that, among other impacts, 25,000 farmers had increased their income by nearly 200% as a result of the programme. Sources and more information: Listener Survey, 2004 and the  Springfield Centre, 2007.
Asset transfer and skills training
This section summarises the results of programmes which directly transferred assets and skills to programme beneficiaries (i.e. not using a market based approach), in order to trigger lasting improvements in the livelihoods of the poor.
Featured story: Assets and Training for Ultra-Poor Women in Bangladesh
The Bangladesh-based development NGO BRAC developed a programme targeted at the ultra-poor that used a 'big-push' approach, combing both a large-scale asset transfer and skills training.
What has been done? The programme offered women a range of productive assets, such as livestock, or assets for cultivating vegetables and making and selling handicrafts. Most beneficiaries (97%) choose livestock, with a cow or cow-goat combination. The livestock received by each participant was valued at approximately $140 (USD), nearly double the average baseline wealth of households eligible for the programme. A training programme of equivalent value was also provided over two years to support recipients in working with their new assets.
What has been achieved? According to a seven-year evaluation (2007-2014) of 1300 villages and 21,000 households, including 6,700 ultra-poor households, the programme has triggered long-term and large-scale benefits for the poor. Though the programme ended after two years, the benefits have continued to accrue: After four years, the ultra-poor increased hours devoted to livestock rearing by 361%, while hours devoted to maid services and agricultural labour fell by 36% and 17%, respectively. Working 22% more hours and 25% more days, earnings increased by 37%. Four years after the initial transfer – and two years after direct programme support ended – the programme resulted in a 9% increase in per-capita 'non-durable' (i.e. food) consumption and a decline of 8.4 percentage points in the number of households living on less than $1.25 per day. Household cash savings increased nearly ninefold, the value of household assets more than doubled and the household saving rate increased by 25 percentage points from an initial value of close to zero. The value of land owned by the ultra-poor rose by 220%, the value of productive assets tripled, and beneficiaries became more engaged in credit markets. In terms of value for money, for every £1 invested in the programme there was a return of £5.40 in terms of increased income and assets for the women concerned. Sources and more information: Oxfam, 2015 and IGC, 2015
Business environment reform
Business environment reform aims to reduce the costs and risks of business activity by improving poor government policies, laws and regulations, and by stimulating competition through new market entrants (DCED, 2008).The stories below outline how such reforms have helped to create better conditions for business growth, employment and economic development in practice. 
Featured story: Reducing regulatory burdens for businesses in Nigeria
Nigeria has had an annual average GDP growth of 7% for the last decade and has gained the status of the largest economy on the African continent in 2014. However, about 70% of the population live below the poverty line, and there are still widespread constraints for business activity and growth.
What has been done? Since 2011, Adam Smith International has been working with private and public stakeholders at national, state and local government level to implement the UK Department for International Development's (DFID) Growth and Employment in States (GEMS 3) project, which seeks to make it easier to do business in Nigeria. One of the successes of this project has been the cooperation of GEMS 3 and the Nigerian government's Corporate Affairs Commission (CAC) in making it easier for micro, small and medium enterprises (MSMEs) to do business.
What has been achieved? In March 2013, the CAC requirement to use professional intermediaries (lawyers, accountants etc.) to register a business was removed. A complementary strategy has been the "Running a business in Nigeria" campaign to spread awareness of these legislative changes. The campaign has been instrumental in enlightening MSMEs on the benefits of registration, such as setting up a corporate bank account, benefiting from international trading opportunities and gaining access to investment capital as well as government loans. As a result, Nigeria has seen an exponential growth in company registrations. The monthly average of registrations from March 2013 to February 2014 has increased over 900% to 22,707 new business formalisations. By 30 of April 2014 this work had resulted in an estimated increased income of £4,894,488 for 19,781 enterprises. It is also estimated that cheaper registration has so far saved Nigerian businesses roughly £25m annually in costs.  Source and more information: Adam Smith International website
More stories like this:
In Peru, the creation of a one-stop business registry and reduction of registration requirements created 577,770 formal jobs in newly registered firms and allowed the government to increase tax revenues by $1.2 billion between 1991 and 1994. Read more or access the full story (CIPE, 2009).
In Serbia and Bosina and Herzegovina, the IFC launched alternative dispute resolution projects to help businesses avoid slow and expensive litigation in court. Between 2004 and 2006, 2,277 mediations reduced the backlog of court cases and released EUR 13m to local businesses. Read more or access the full story (IFC, 2007)
In Uzbekistan, reforms to the burdensome business inspection system facilitated by the IFC helped businesses save about US$21 million  between 2003 and 2005, mainly from avoiding shut-downs for minor infractions. Read more or access the full story (IFC, 2005)
Green growth
Green Growth programmes aim to combine both economic and environmental goals through business or market-based approaches. 'Green' outcomes include the mitigation of, and adaptation to, climate change, the reduction of pollutants, and a reversal of biodiversity loss and water scarcity.
Featured story 1: Developing Energy Enterprises Project in East Africa
A large majority of the population living in rural and peri-urban areas of Kenya, Tanzania and Uganda do not have access to sustainable, affordable and appropriate energy.
What has been done? The Developing Energy Enterprises Project (DEEP) in East Africa was a five year capacity building initiative (2008-13), funded by the European Union and the Dutch Ministry of Foreign Affairs. It aimed at increasing energy access and employment opportunities in rural and peri-urban areas by providing technical support to the development quality energy products and services (e.g. briquette production, improved cook-stoves, solar, battery charging and biogas), facilitating access to finance, and addressing marketing challenges,
What has been achieved?  More than 4 million beneficiaries now have access to sustainable and affordable energy in rural and peri-urban areas, while almost 900 energy enterprises have received support and over 1,500 people have found permanent jobs in energy enterprises. Source and more information: DEEP, 2013.
Featured story 2: Sustainable Rattan production in Cambodia, Laos, and Vietnam
The harvesting and pre-processing of rattan in Laos, Cambodia and Vietnam is unsustainable and wasteful. The processing industry is over-exploiting the rattan plant, has little environmental awareness, and is currently responsible for pollution, health risks to its workers, and poor global competitiveness.
What has been done? Starting in 2009, the EC/WWF SWITCH-Asia 'Establishing a Sustainable Production System for Rattan Products in Cambodia, Laos, and Vietnam' project has built capacity across supply chains, fostered links with national and international buyers, and targeted policy-makers to improve the framework for better rattan forest ownership and easier export.
What has been achieved?  By 2011, SME sourcing from responsibly managed forests and new contracts with international retailers have led to 22,000 villagers increasing their incomes by 5-45%. The project has led to the first Forest Sustainability Council certification of rattan (1,142 ha) and 19,000 ha are under responsible forest management. 120 SMEs are applying cleaner production techniques. Source and more information: Switch Asia, 2011.
Technology
This section lists selected impact stories of programmes which have introduced new, affordable technologies for the poor through market-based approaches.
Featured story: Mixing toilets with profit in Cambodia
Sanitation in rural Cambodia is poor, with serious repercussions on health, income and productivity. The Asian Development Bank estimates that 7% of Cambodia's GDP is lost due to its lack of sanitation. While some NGOs have given toilets away for free, these have often not been used.
What has been done? IDE, with funding from USAID, used a new approach that made people buy in to the concept of sanitation and willing to buy a toilet at full price. Starting in 2006, iDE conducted supply and demand studies to better understand sanitation markets in Cambodia. IDE then commissioned the design of low-cost latrines which local business, with a little training, could make and sell. A pilot project followed, which showed that rural households—even poor households—would purchase latrines that met their aspirations. The pilot also demonstrated that local businesses were willing to invest their own money to address the burgeoning demand. In scaling up these results, IDE worked with partners—donors, NGOs, and government—to make latrines more affordable and easier to buy.
What has been achieved? 10,000 latrines were sold in the first 18 months. Between 2012 and 2016,  latrine coverage in the seven target provinces had increased from 29% to 45%. In total, 228,151 latrines have been sold as of May 2016 through project-connected business, with average monthly sales at around 5,000. In 2016, 22% of latrine buyers were poor – twice as many as during the project baseline in 2012.  Due to the high demand, copycat businesses have also set up and sold a similar number of latrines as project-connected business. 90% of active latrine businesses are profitable. Moving away from traditional models of aid, this solution therefore helped to bring about both economic and health benefits. The successful scaling up of the project also means that the project costs per household decreased from $326 to $35.Sources and more information: IDE, 2016 and BBC, 2011.
More stories like this:

Between 1991 and 2016, KickStart, a non-profit social enterprise, has sold 310,000 human-powered irrigation pumps at low cost to farmers in Burkina Faso, Mali, Tanzania, Kenya and other countries. KickStart's pumps have enabled these farmers to increase their productivity and increase of annual household incomes by 100-200%. Farming households have also created about 210,000 jobs. In total, Kickstart has helped about 1.2 million people move out of poverty. Access the full impact story here: KickStart website, 2018; World Bank, 2013
In the conflict-affected Western districts of Nepal, USAID's Smallholder Irrigation Market Initiative (SIMI) focused on promoting low-cost micro-irrigation technologies, combined with capacity building and value chain development activities for high-value crops.Between 2003 and 2008, the project helped generate more than $30 million in additional agricultural sales, and increased the incomes of 72,760 households (about 500,000 people) by an average of $209 annually through the sale of vegetables. Access full impact story (USAID, 2013).