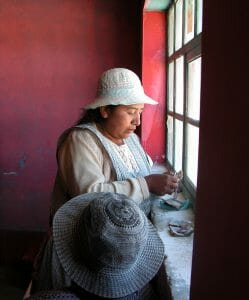 Promoting Women's Economic Empowerment (WEE) is key to reducing poverty and aiding economic growth. In every part of the world, women are paid less for their work and see fewer benefits of their labour. Discrimination and extra household responsibilities reduce their access to decent work and capital and time needed to improve their businesses, relative to men. On the other hand, investing in women has high economic and non-economic returns. For example, women are more likely than men to share economic rewards with their children, bringing benefits for their education and health.
A key objective of many private sector development (PSD) interventions is therefore to harness the private sector to promote WEE, or at the minimum, to do no harm. This page contains useful resources to achieve this, based on effective programme design, implementation and results measurement.
Synthesis Note on Women's Economic Empowerment
For a summary of some of the latest original research on Women's Economic Empowerment, have a look at the DCED Research & Evidence update with a special feature on the theme (September 2017).
Key research on constraints to women's economic empowerment and how these may be addressed is summarised in our Synthesis Note.
DCED publications
DCED members have formed a Women's Economic Empowerment Working Group (WEE WG) to share experiences and develop guidelines of effective practice for interventions supporting women's economic empowerment. DCED publications on the theme by DCED Working Groups are listed below.
For information on training opportunities in women's economic empowerment, please visit the DCED events page.
Other Key Overview and Guidance Documents
Country Studies
WEE and the Business Environment
WEE and Value Chain/ Market Development Programmes
WEE and Business Development Services
WEE and Challenge Funds
Other Useful Links