Agency details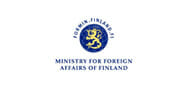 The Ministry for Foreign Affairs of Finland believes that development policy is an important part of Finland's coherent foreign policy and security policy.The basis for Finland's human rights based development policy is the set of Millennium Development Goals established by the United Nations, which aim at eliminating extreme poverty. In addition to reducing poverty and inequality, Finland supports the long-term goal of freeing developing countries from their dependency on aid, through strengthening their own resources. Finland believes that support should be given to strengthening the ability of those living in extreme poverty to work in order to improve their lives.
Finland's Development Policy (2016) has four priority areas: 1. The rights of women and girls, 2. Reinforcing developing countries' economies to generate more jobs, livelihoods and well-being 3., Democratic and well-functioning societies, including taxation capacity, and 4. Food security, access to water and energy, and the sustainable use of natural resources.
Private sector development (PSD) policy and strategy
The Ministry states that both private sector development and private sector cooperation are crucial to Finnish efforts of poverty eradication. Private sector development in developing countries helps create decent jobs and opportunities of entrepreneurship for the people, help them earn their living and bring, over time, resources to the state for the funding of public services. Private sector cooperation is important because the private sector can offer expertise, technology, goods and services, business models and resources for poverty eradication and sustainable development. The private sector has in recent years played an increasingly important role in development.
Partnership mechanisms for the private sector
The Ministry states that Finland strives to develop the possibilities for private enterprises, public actors and civil society to support sustainable development and participate in development cooperation. The Ministry wants to strengthen dialogue between the State and the private sector, as well as to develop forms of private sector development cooperation. Key instruments in this area are the state-owned development finance company Finnfund and the Finnpartnership programme, which supports long-term business partnerships between companies and other actors in Finland and in developing countries.
Finnpartnership: Matchmaking between companies; Business Partnership Support (grants); Advisory Services; Information Services on Exporting to Finland
Finnfund: Financial support (Equity financing; Investment loans; Mezzanine financing; Cofinancing; Guarantees in exceptional cases)
Fund for Local Cooperation: Financial support (grants for host-country civil society actors, organisations and the private sector). More information is available on the websites of Finnish embassies in individual countries
BEAM – Business with Impact. A joint innovations-for-development program between the MFA Finland and the Finnish Funding Agency for Innovation. Financial support includes grants and risk loans.
Public Sector Investment Facility (PIF). Support for public sector investments of developing countries, part of the procurement is tied to Finnish enterprises. Support goes to the developing country's investment loan (grant) and its interest (interest rate subsidy). Will be functional by end 2016.
Speeches and news on private sector development
Minister Toivakka's speech at the Conference on Financing for Development (08/2015)
Transparency, effectiveness and results in PSD
Finland is committed to improving the quality of development cooperation. The evaluation of development cooperation monitors its quality, appropriateness, efficiency, effectiveness, sustainability, and effects. As part of the Development Policy Programme, evaluations also consider whether more efficient and cost-effective uses could be found for the available resources. One of the aims of policy is to continually strive to improve the effectiveness of measures taken, and their coherence with other policy sectors. In the interests of transparency, the evaluation reports are also presented in report launchings open to the public on the day of publication of the report in Finland. In addition to the large-scale evaluations, "decentralised" internal evaluations are undertaken for individual projects. These evaluations investigate how well the aims and goals of the project have been achieved, consider which factors have affected successes and failures in the project, and provide information and tools for developing projects and planning future development cooperation.