Objectives of the group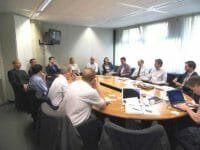 When the Results Measurement Working Group was formed in 2008, no standards or guidelines were available for good practice in monitoring. The objectives of the Group have therefore been to improve effectiveness, and to generate more data about achievements, through best-practice monitoring based on clear articulation of the programme logic (results chains) and harmonised indicators for PSD.
Key achievements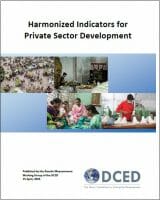 The RM WG supervised the development of the  DCED Standard for Results Measurement, which provides programmes with the framework, and an incentive, to monitor their own results according to good practice. Credibility is assured through external audit of the measurement process. An increasing number of programmes are working towards compliance with the Standard, and formal audits are now being implemented.
Most recently, the RM WG has embarked on an ambitious process of harmonising PSD indicators, publishing the outcome of the first phase of this exercise in April 2016. The full report detailing the outcome of the harmonization exercise is available here.
Ongoing work
The DCED website includes many supporting documents on the Standard, including an introductory Reader, Implementation Guidelines and case studies on the application of the Standard. This set of resources continues to be updated and expanded. The Standard itself will be further refined in the light of the experience of programmes applying it.
The next step in the indicator harmonisation process includes a consideration of how the methodologies used to measure each indicator might also be harmonised.
In 2016, the RM WG published A Preliminary Review of Results Measurement in Impact Investment, which surveys results measurement work of the impact investing and social enterprise communities; the aim is to understand how they relate to experience in other PSD-related areas such as Private Sector Engagement and Blended Finance. For a 2-page summary, click here. More recently, the Working Group has published two further studies on Results Measurement in Impact Investment:
More information